Course details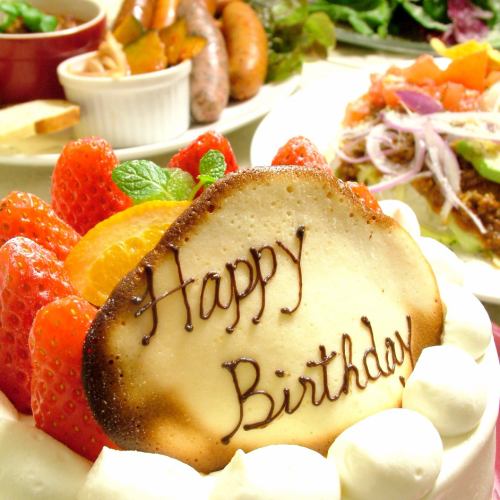 ★ Wai Wai PARTY course all seven items 2.5 H drinking and spending 4000 yen ★ ☆ ☆ with a bowl with a hole cake ☆
By using a coupon3500 yen
tax included
7items

2

-

40persons

All-you-can-drink available

2 hour system ※ Because time can be extended, please ask STAFF.
A perfect course for birthday ♪ a nice party at a house-style cafe! On your birthday, celebrate with homemade hall cake, music & candles & pictures ♪ Let's have lots of excitement with everyone ★ ★
Course menu
【One case】
◆ Chilean beans & baguette
◆ Assorted sausages
Marinated seasonal vegetables ◆
◆ Sesame Caesar Salad
◆ child of tree and bacon pizza
◆ Seasonal vegetable pasta
◆ Homemade Hall cake or Sweets platter
★ We will attach Name Plate to the Hall cake.I can write your favorite message ☆
※ The contents may change depending on purchase and season.
★ + 500 yen can be drunk all you can extend to 3 hours ★
★ + 300 yen for beer and all you can drink ★
【Beer】 Heartland student · Shandyagaf · Cassis beer · Mint beer
All-you-can-drink menu
· Beer
· Heartland student / Shandigafu / Red Eye / Cassisvia
· Vodka base
· Moscow Commander / Bloody Mary / Screwdriver / Bulldog
· Gin base
· Gin Tonic / Jim Buck / Orange Blossom / Jin Lime
· Tequila base
· Tequila Cork / Tequila Tonic / Tequila Sunrise
· Rum base
· Rum coke / rum tonic / rum back / ram cafe
· Other Cocktail
· Cassis Orange / Cassis Grapefruit / Cassis Soda / Peach Fizz / Fazy Necklist / Reggae Punch / Campari Orange / Campari Soda / Malibu Beach / Malibu Coke / Malibu Milk / Amaret Ginger / Kalua Milk
· Wine & Others
· Glass wine / keel / kitty / gym beam / high ball / plum wine / oolong hi / lemon sour ...
· Softdrink
· Orange / grapefruit / cola / ginger ale / coffee / tea / oolong tea
Reservation deadline

Until 17 o'clock on the desired shopping day
Available days for reservation

Monday - Sunday - Public holidays - Holidays
2018/12/21 update